Dr. Wolfe is an internationally respected expert on wrist injury repair.
EXPERIENCE and technical expertise matter in wrist fracture surgery and are likely the most important factors in your outcome of wrist fracture surgery.
A recent study of over 300 consecutive surgeries demonstrated that the majority of complications following surgery for distal radius fractures (such as tendon irritation, tendon rupture, hardware protrusion into the joint, hardware loosening, hardware removal, nerve injury, loss of reduction) were related to technical errors or incorrect hardware placement.
Making up roughly 80% of the wrist joint, the distal radius is a common bone to break in a sports-related accident or fall. Treatment options include casting, surgery or a combination of both. Dr. Wolfe bases his treatment recommendations on a variety of injury- and patient-related factors and discusses all options and outcomes with each patient. He customizes a treatment plan for individual fracture types, patient needs and activity levels. His goal is to achieve prompt and secure fixation of the fracture fragments - whether by casting or surgery – to enable the injured patient to begin rehabilitation soon thereafter. Often patients may begin to use their injured hand again within days. Incorrect initial treatment may ultimately require difficult secondary reconstruction and/or bone graft, and may not always reverse the loss of motion and arthritic changes that may have already begun.
Dr. Wolfe's Chapter on Distal Radius Fractures in 'Green's Operative Hand Surgery
Distal Radial Fracture Management
A scaphoid fracture often occurs when one falls on an outstretched hand. Its symptoms can be vague and difficult to detect, but missed or delayed diagnosis can result in long term impairment and painful consequences. Due to the scaphoid bone's complex shape and unstable blood flow, untreated broken fragments may not heal, and the subsequent arthritis can be disabling. Dr. Wolfe thoroughly investigates every wrist injury with highly specific xrays and advanced imaging to ensure accurate diagnosis and treatment.
Scaphoid fractures occur most frequently in young athletes and may often be dismissed as a sprain. Unless identified as a subtle crack on initial xrays, the injury can go undiagnosed for months or years. This often silent injury can unravel the complex balance of the eight bones of the wrist, setting in motion a downward spiral of stiffness, swelling and relentless arthritis. Early symptoms of pain, bruising and swelling may temporarily resolve only to return with widespread pain preventing full motion or use of the wrist. Dr. Wolfe treats many patients with undiagnosed scaphoid injuries which are in various stages of arthritis and now require surgery.
Hybrid Russe Procedure for Scaphoid Waist Fracture Nonunion With Deformity
Scaphoid articles for patients. There is more information on Dr. Wolfe's scaphoid research in the About/RESEARCH page.
Selected Scaphoid Articles for Patients Please call Dr. Wolfe's office at 212-606-1529 for a copy of any article that interests you.
Does Anyone Need a Vascularized Graft?
Rancy SK, Schmidle G, Wolfe SW.
Hand Clin. 2019 Aug;35(3):323-344. doi: 10.1016/j.hcl.2019.03.005. Epub 2019 May 11. Review.
Treatment of scaphoid and carpal injuries.
Lee SK, Wolfe SW.
J Hand Surg Eur Vol. 2018 Jan;43(1):3. doi: 10.1177/1753193417744710. No abstract available.
Success of scaphoid nonunion surgery is independent of proximal pole vascularity.
Rancy SK, Swanstrom MM, DiCarlo EF, Sneag DB, Lee SK, Wolfe SW; Scaphoid Nonunion Consortium.
J Hand Surg Eur Vol. 2018 Jan;43(1):32-40. doi: 10.1177/1753193417732003. Epub 2017 Sep 24.
Scaphoid Proximal Pole Fracture Following Headless Screw Fixation.
Rancy SK, Zelken JA, Lipman JD, Wolfe SW.
J Wrist Surg. 2016 Mar;5(1):71-6. doi: 10.1055/s-0035-1565928. Epub 2015 Nov 21.
Hybrid Russe Procedure for Scaphoid Waist Fracture Nonunion With Deformity.
Lee SK, Byun DJ, Roman-Deynes JL, Model Z, Wolfe SW.
J Hand Surg Am. 2015 Nov;40(11):2198-205. doi: 10.1016/j.jhsa.2015.07.028. Epub 2015 Sep 9.
Suh N, Ek ET, Wolfe SW.
J Hand Surg Am. 2014 Apr;39(4):785-91; quiz 791. doi: 10.1016/j.jhsa.2013.10.030. Review.
Computer-assisted navigation of volar percutaneous scaphoid placement.
Walsh E, Crisco JJ, Wolfe SW.
J Hand Surg Am. 2009 Nov;34(9):1722-8. doi: 10.1016/j.jhsa.2009.08.009.
A computational approach to the "optimal" screw axis location and orientation in the scaphoid bone.
Leventhal EL, Wolfe SW, Walsh EF, Crisco JJ.
J Hand Surg Am. 2009 Apr;34(4):677-84. doi: 10.1016/j.jhsa.2009.01.011.
Interfragmentary motion in patients with scaphoid nonunion.
Leventhal EL, Wolfe SW, Moore DC, Akelman E, Weiss AP, Crisco JJ.
J Hand Surg Am. 2008 Sep;33(7):1108-15. doi: 10.1016/j.jhsa.2008.03.008.
Ideal Starting Point and Trajectory of a Screw for the Dorsal Approach to Scaphoid Fractures.
Kupperman A, Breighner R, Saltzman E, Sneag D, Wolfe S, Lee S.
J Hand Surg Am. 2018 Nov;43(11):993-999. doi: 10.1016/j.jhsa.2018.03.044.
Treatment of scaphoid nonunions: quantitative meta-analysis of the literature.
Merrell GA, Wolfe SW, Slade JF 3rd.
J Hand Surg Am. 2002 Jul;27(4):685-91.
What seemed like an innocent injury when you fell 6 months ago has turned into a nightmare of constant pain, inability to workout, throw, even write or type. You've consulted with several doctors, had xrays, MRI's, even CT scans; yet no one has a straight-forward answer for you. You have a scaphoid nonunion.
The scaphoid is an oddly shaped bone of the carpus – one of the eight bones that collectively makeup the most complex, highly mobile, yet fragile joint in our body – our wrist. The scaphoid (scaphus is Latin for skiff or boat) has been said to resemble a "deformed peanut" in its healthy form. When fractured, especially if not diagnosed and treated promptly, the scaphoid can fail to heal, undergo changes in its shape and posture, and even lose its blood supply. Ultimately it can fragment and/or lead the entire wrist down a progressive course of traumatic arthritis.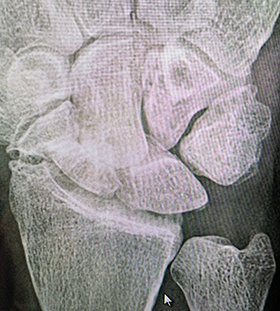 SLAC wrist (scapholunate advanced collapse) occurs years after a complete tear of the scapholunate interosseous ligament (SLIL). This image shows the painful arthritis of a SLAC stage III wrist begins after we fall and tear our scapholunate interosseous ligament (SLIL).
Fortunately, Dr. Wolfe and his team at HSS have pioneered successful techniques to revitalize and repair the most complex scaphoid nonunions with the highest rates of union and success. We begin with establishing a precise diagnosis using high resolution radiographs, computed tomography and magnetic resonance imaging. This allows us to precisely map the scaphoid fragment size, deformity and its effects on the neighboring carpal bones. We can then employ state-of-the-art computer modeling techniques to virtually perform, refine and practice the surgery before your surgery date. 3D printing can be utilized to create scale models of the fractured fragments before and after reconstruction. Using fresh bone graft harvested from within an inch of the scaphoid nonunion, Dr Wolfe and his colleagues have published their outstanding surgical outcomes and minimal nonunion rate. Novel research from their laboratory has refuted the widely held dogma that a fresh source of blood supply and a complex multi-hour surgery is necessary to heal these fractures.
Case Presentations
Click here to view Case 1 Presentation
Click here to view Case 2 Presentation
In collaboration with his colleague, friend, and long-time co-researcher Trey Crisco, PhD.,, Dr. Wolfe has successfully garnered over five million dollars in competitive research grant funding to study the mysteries of wrist motion, injury and mechanics.
In the 1990s, with NIH sponsorship, their published work provided the software foundation for Four Dimensional (4D) wrist motion analysis. This is the ability to track and measure multiple small, intricately-shaped wrist bones as they roll and glide during hand and wrist function. Through nearly thirty years of collaborative work, Wolfe and Crisco have published key insights to help clinicians better understand the consequences of wrist fracture, ligament injury and instability.
Wolfe teaches his innovative insights about ligament repair and reconstruction to hand surgeons around the world. With a fundamental understanding of wrist injury and mobility, Dr. Wolfe provides his patients with important prognostic information as well as customized choices for the most complex wrist injuries.
Carpal Kinematics
Normal and Abnormal Carpal Kinematics: The Importance of the Midcarpal Joint
CBS News Dr. Max Gomez Interviews Dr. Wolfe on Wrist Surgery
Dr. Wolfe and Dr. Crisco's Hand and Wrist Motion Analysis
FDA reviews revolutionary new wrist replacement developed by Dr. Wolfe and Dr. Crisco after 30 years of research!
With a keen understanding of the past failures of wrist replacement, Dr. Wolfe and his longtime colleague, Trey Crisco, PhD., secured NIH funding to unravel the mysteries of wrist motion. They importantly discovered that functional activities such as throwing and hammering are enabled by wrist anatomy that was shared by our primate ancestors. This realization enabled their team to develop and patent the first "mid-carpal" wrist replacement. This unique, new wrist replacement is designed to utilize the joint surfaces responsible for complex multi-planar motion – a distinct departure from the constrained prostheses of the past. The new Kinematix™ wrist more closely mimics normal wrist motion. Improved motion, more consistent with the actual complex motion of the human wrist, is hoped to lead to increased durability of the implant, and allow younger, active patients who are disabled by wrist arthritis to engage in sports again. The first patient to receive such a wrist now enjoys golf several days a week nearly three years after his surgery in London. Wolfe and Crisco anticipate FDA approval soon for use of their unique, new Kinematix™ wrist.
Four-Year Outcomes of Midcarpal Hemiarthroplasty for Wrist Arthritis.
Anneberg M, Packer G, Crisco JJ, Wolfe S.
J Hand Surg Am. 2017 Nov;42(11):894-903. doi: 10.1016/j.jhsa.2017.07.029. Epub 2017 Sep 18.
Midcarpal hemiarthroplasty for wrist arthritis: rationale and early results.
Vance MC, Packer G, Tan D, Crisco JJ, Wolfe SW.
J Wrist Surg. 2012 Aug;1(1):61-8. doi: 10.1055/s-0032-1323644.
Who would think that just a two millimeter variation in the length of the two forearm bones could cause intense pain and impairment with everyday activities? When playing racquet sports, not only is the top spin of a forearm shot excruciating, but simply lifting a gallon of milk from the refrigerator becomes an almost impossible task. The disorder is called Ulnar Impaction Syndrome, and it most commonly affects young and active individuals. Repeated impaction of the longer ulnar bone against the small wrist (or carpal) bones creates cumulative damage to the bones and soft tissues about the distal radio-ulnar joint, (insert image), the triangular fibrocartilage, and the carpal bones (see Image 1).Recreational and professional athletes can be temporarily sidelined by the recurrent pain and swelling of this condition. Patients may be treated for months with various splints, injections and anti-inflammatory medications.
Dr. Wolfe diagnoses the condition with a thorough examination of the wrist and forearm, and confirms the diagnosis with plain radiographs and the pronated grip film of each wrist (see Image 2). On occasion, an MRI scan (see Image 3) is helpful to demonstrate involvement of other bones or to rule out other diagnostic possibilities such as DRUJ arthritis, TFCC detachment and radial-ulnar-instability. While several surgical techniques have been utilized to treat the disorder, Wolfe and his colleagues published successful results of their technique for ulnar shortening osteotomy a decade ago. Their method has a minimal incidence of nonunion and excellent success in relieving the pain of ulnar impaction syndrome. They have now published their larger, comparative experience of a technical refinement that further reduces complications and nearly eliminates the need for suture or hardware removal.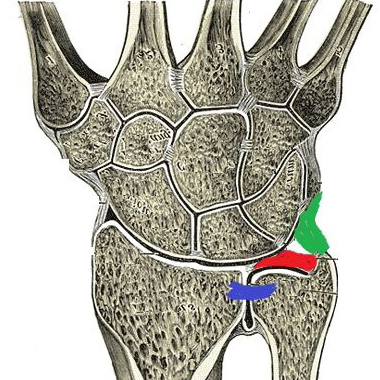 Image-1 : When the ulna is longer than the radius it can impact upon the lunate bone in certain wrist positions and damage the triangular fibrocartilage complex (TFCC) shown in red.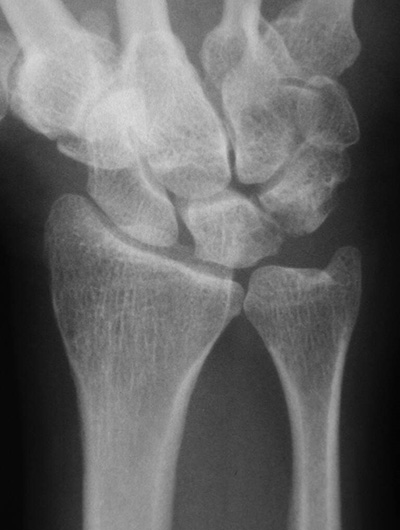 Image-2 : The ulna is longer than the radius and is accentuated in this "pronated grip" xray.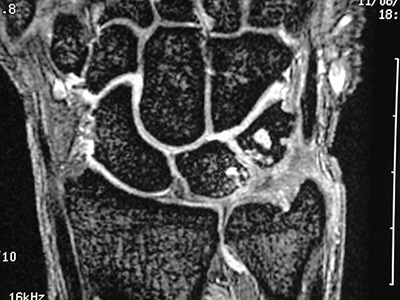 Image-3 : An MRI scan shows thinning of the TFCC and damage with cyst formationin the ulna and the neighboring triquetrum bone, resulting from ulnar impaction syndrome.
Click here to view Ulnar Impaction Syndrome Case Demonstration
Click here to view Soft Tissue Complications of Dorsal Versus Volar Plating for Ulnar Shortening Osteotomy
The "wrist joint" is not actually a single joint, but a collection of eight small bones held together by dozens of ligaments. The wrist is unquestionably the most complicated joint in our bodies. The carefully coordinated motion of these eight bones is crucial to the smooth and painless function of our hands.
Figure 1: The so-called "dart-throwing motion" is an essential and unique motion of the human wrist.
Figure 2: Throwing and hammering are precision, high strength motions that require a fully functional and painless wrist.
Your wrist positions your hand in space, enables written and non-verbal communication, powers heavy tool use turns the car keys, and propels objects in our athletic pursuits. A seemingly innocuous fall on your outstretched hand can bring this finely tuned machine to a painful, crashing halt, and begin a relentless slide to wrist arthritis. Over 4 million Americans are affected by SLAC wrist disease which begins after we fall and tear our scapholunate interosseous ligament (SLIL).
Figure 3: SLAC wrist (scapholunate advanced collapse) occurs years after a complete tear of the scapholunate interosseous ligament (SLIL). This image shows the painful arthritis of a SLAC stage III wrist.
Figure 4: Scapholunate ligament rupture may be diagnosed in late stages by a visible gap between the scaphoid and the lunate (so-called Terry Thomas sign) on plain xrays.
Wrist Video: Prof. Crisco and Wolfe developed the first fully segmented video of the moving human wrist in 1998, enabling physicians and scientists to appreciate and measure the complex motion of the carpal bones.
Dr. Wolfe has been studying the wrist joints (collectively called the "carpus") for over three decades at multiple laboratories and with over 4 million dollars of competitive grant funding from the National Institutes of Health and other research funding agencies. Together with Joseph J. (Trey) Crisco, Ph.D., he and his team have made tremendous strides in understanding how the normal and injured wrist functions (see wrist video 1), and how to prevent the wrist from developing painful arthritis. The SLIL is central to normal wrist function, and once ruptured by a fall or athletic injury – the timetable for wrist degeneration begins.
Figure 5: This lateral xray shows the scaphoid is rotated abnormally (arrow), signifying that its ligament attachment to the lunate is torn completely.
Unfortunately, it is not always obvious when this ligament is torn; requiring a skillful examination and high-resolution imaging, including detailed radiographs and often, an MRI scan. It is important to realize not all imaging is the same – while simple radiographs may reveal a problem it is essential to see a wrist specialist and have the correct imaging ordered. Your insurance company may be reluctant to repeat expensive imaging tests if prior imaging was done without the specialized equipment and wrist protocols necessary. Dr. Wolfe works directly with the advanced musculoskeletal imaging team at HSS to translate his research findings into new protocols to identify subtle and complex ligament injuries.
Figure (6A&6B): High resolution MRI images of the human wrist, demonstrating a torn scapholunate ligament and abnormal posture of the wrist bones.
Figure 7: A 2015 paper demonstrating failure rate of > 20% for traditional methods of repair and reconstruction of the scapholunate ligaments, especially in injuries that presented for treatment late.
Figure 8: Novel research demonstrating the multiple critical ligaments supporting the carpal bones, and those that may be necessary to stabilize when addressing ligament repair or reconstruction.
Once diagnosed with a scapholunate ligament rupture, it is essential that you identify a surgeon with extensive experience in treating these injuries. This is the most complex wrist injury that we see, and traditional outcomes of ligament repair or reconstruction consistently remain at a 70-80% success level which would be considered unacceptable in athletic knee or shoulder injuries. Dr. Wolfe's clinical and research interests focus entirely on the diagnosis and treatment of this injury; and his team's award-winning 2019 research paper has identified three critical supporting ligaments that must be addressed when treating this injury. Additionally, his collaborative work with his colleagues in Australia, France, South Africa, England and Japan has identified, tested and adopted an advanced technique to simultaneously reconstruct each injured ligament in a complex outpatient surgery.
Figure 9B: The same patient three months after a novel scapholunate ligament reconstruction that addresses each of the critical ligaments that support tge carpal bones, showing closure of the gap between the scaphoid and the lunate, and normal wrist bone posture.
If you suspect or have been told that you may have injured your scapholunate ligament, call our office (212-606-1529) to schedule an urgent appointment for a comprehensive examination and specialized imaging. Please do not have advanced imaging (MRI, CT scan, arthrogram, etc) performed before your visit – we can often arrange to have these tests approved by your insurance carrier and performed on the day of your visit to HSS.
Radiographs Detect Dorsal Scaphoid Translation in Scapholunate Dissociation.
Chan K, Vutescu ES, Wolfe SW, Lee SK.
J Wrist Surg. 2019 Jun;8(3):186-191. doi: 10.1055/s-0038-1677536. Epub 2019 Jan 18.
Click here for more information on:
You will need the Adobe Reader to view and print these documents.